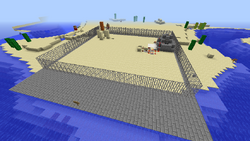 Cape Cuntanamo was MTM's former site for griefer torturing. Far enough from the city at the time of construction, the facility was removed to accommodate the Unterganger Minecraft Server Headquarters complex built soon after the end of the First Server Downtime.
Even though the sacrifice devices were only tested with mobs, they were actually meant to sacrifice filthy players as punishment and to recover their inventory, before banning them. Custom items, such as renamed/echanted weapons would have been put on display if the devices had been ever used for their purpose.
The name, given to it by Molster, is a reference to Guantanamo Bay and a certain undesirable Indonesian YouTuber.
Ad blocker interference detected!
Wikia is a free-to-use site that makes money from advertising. We have a modified experience for viewers using ad blockers

Wikia is not accessible if you've made further modifications. Remove the custom ad blocker rule(s) and the page will load as expected.