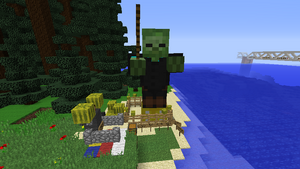 Günsche Senior, Esquire, is Molster's pet giant, kept nearby his private beach.
He (Günsche Sr.) is a frequent victim of grief by various players but unfortunately none has been caught. The griefings include him being forcibly renamed, killed or being introduced to unpleasant companies of pigs and chickens.
Molster gave him plenty of watermelon to eat during Molster's absence. Tudor even invited flying Ibrahim over to keep him company, and to deter griefers.
For a long time Günsche Sr. had nothing but the clothes he had when he spawned, but that changed in 1 December 2014 when Molster gave him new clothes to keep him warm. He was also given the Pencil of Grief Protection.
Unfortunately, Günsche Sr. died in 2015.
Currently a cabin is being built by Molster for Günsche Sr., appropriate for his size, in the northern Outer West, however due to his absence, the construction progress halted.
Ad blocker interference detected!
Wikia is a free-to-use site that makes money from advertising. We have a modified experience for viewers using ad blockers

Wikia is not accessible if you've made further modifications. Remove the custom ad blocker rule(s) and the page will load as expected.