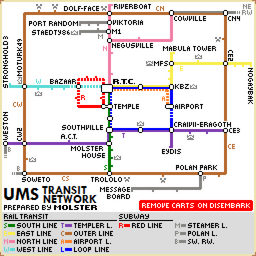 The Subway is one of the two classification of minecart lines around the Unterganger Minecraft Server (the other being the Rail Transit Network or RT). Lines under the Subway network are those that is restricted to the built-up areas (e.g. the two cities). Currently only one line is within the Subway network - the Red Line.
The oldest section of the Red Line was built by Hans_Krebs while Molster constructed the rest of the line, including all but one station.
The first build that resemble a subway system of any kind was a section of looping tracks elevated above the ground level built by Hans_Krebs. It was part of his original plan to have a densely-built area around the area in the middle of Unterganger City. Due to the tracks being of a short length and appearing to go nowhere, some have mistaken it for a roller coaster line of some sort.
After Molster learnt of what the tracks really are, he rationalized and made it functional by extending the elevated tracks south and connect it to the existing RT South Line constructed by MTM. He also extended it north by going underground, building two underground station along he way. Due to building restriction on Athyras the subway line only cover the Unterganger City.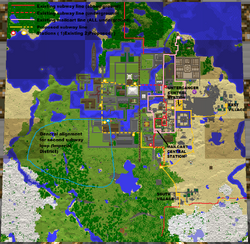 Following Molster's Rail Development Plan, Molster was granted permission to build tracks underground beneath Athyras. The plan calls for a formation of a loop line that crosses the Wall, and an optional second loop line entirely inside Athyras. Only two of the five proposed stations under Athyras were approved. The first one, located on the northern side, was constructed by Hans_Krebs, but unlike what Molster envisioned it was an at-grade station. Nevertheless, the line's extension went according to plan. The old connection to RT's south line was severed, and the south end of the line was rerouted to go underground and towards Athyras where it meets up with the lines to the north underneath Athyras.
All the stations except the two inside Athyras were built in a minecraft-centric design. This were changed sometime later when Molster upgraded all stations with ticket counters or machines and turnstiles.
With Hans_Krebs' plan of Aythras' expansion, the proposed second loop line was ditched in favour of surface tram lines. An interchange station with RT's West Line was built however, at the point where one passed over the other underground near the bazaar.
The Red Line is the first and currently only line under the Subway network. The line forms a loop, connecting Unterganger City and Athyras' Historical District across the border. The line has double tracks so one can go in both directions.
Stations along the loop line (counter-clockwise from the Unterganger Central Terminal):
Code
Name
Platform Type
Position
Interchange/Notes

R1




S1
E1
N1
W1
A1

Unterganger Central Terminal
Bay
Surface
Interchange to Rail Transit Network's South Line, East Line, North Line, West Line, and the Airport Express Line

R2

North Station
Bay
Underground

R3

Museum Station
Side
Surface

R4

W2

Bazaar Station
Side
Underground
Interchange with RT West Line

R5

Court Station
Side
Underground

R6

Temple Station
Side
Elevated
Within walking distance to RT South Line's Temple Station

R7

Middle Station
Bay

R1

Unterganger Central Terminal