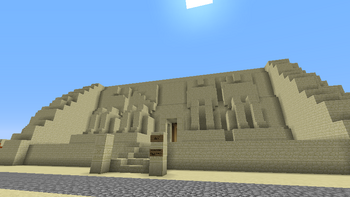 The Temple of Ramen II is a build by Molster located in the Central Region, near the Sandcastle, Vzorkic Pyramid and the Wither Temple. Principal construction started on 5 February 2015 and completed the next day, though interior decoration works are still underway. The temple is a close replica of the Temple of Ramses II, aka Great Temple of Abu Simbel, minus some sections.
Ad blocker interference detected!
Wikia is a free-to-use site that makes money from advertising. We have a modified experience for viewers using ad blockers

Wikia is not accessible if you've made further modifications. Remove the custom ad blocker rule(s) and the page will load as expected.